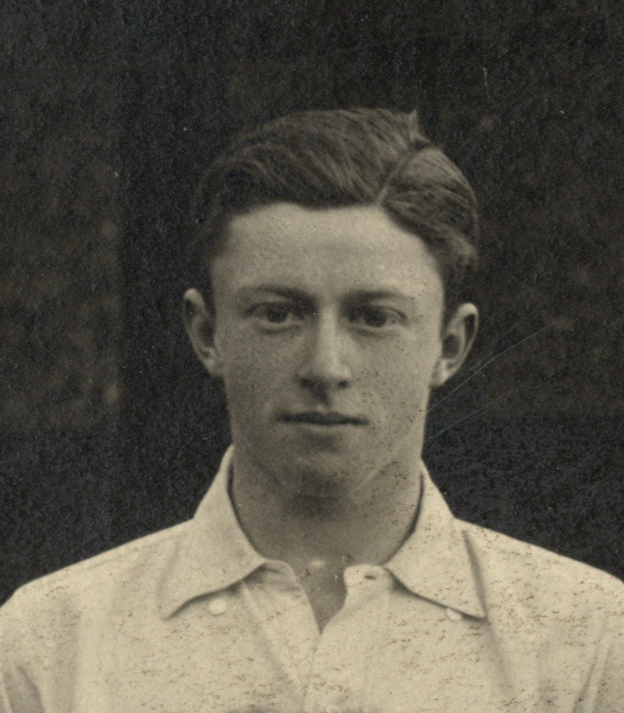 Geoffrey Gee was born in Summergangs, Pinjarra, Western Australia to Raymond Gee and his wife Annie Matilda Alderson. His father was English and at some point before 1888 had emigrated to Perth, where he was Head Master of Hales School for a year.
Geoffrey was sent to school in England, joining Ashburnham House in September 1909. He was made an exhibitioner in 1910, and a King's Scholar in 1911. Outside of term time he lived with his paternal aunt and her husband, Dr Bernard Ley, in Earl's Court.
Geoffrey was very successful in a range of school activities. He was athletic, winning the school fives ties and was a runner up in the gymnastic competition (losing out due to a 'lack of symmetry in some exercises'). He played cricket and football for the 1st XIs, earning full pinks after his performance in the Charterhouse football match, although 'he dribbled much too close on to his forwards and only passed moderately'. In his final cricket season it was commented that he had 'persevering temper, and both with bat and with ball did better than some of his critics expected'.
Gee was academic as well, winning the Phillimore prize for translation and speaking regularly at the school's debating society – opposing a motion to restrict the franchise in this country. He performed 'very creditably' in the 1913 Latin Play. In his final term at the school, Election 1915, he was made a monitor.
Although Geoffrey won a place at Christ Church, Oxford, he joined 3rd Battalion of the Royal Sussex Regiment straight after leaving the school. He went out to the western front in August 1916, but was transferred to the Royal Flying Corps in January 1917 as an observer.
Geoffrey went up in his aeroplane near Ypres on 4th June 1917 and was never seen again. His name is on the Arras Flying Service Memorial in the Faubourg d'Amiens Cemetery.