Frank Jonas was a Rigaudite, joining the house in 1895 and leaving in 1898. After leaving the school he travelled to Copenhagen to study brewing and went on to become a manager of a branch brewery of Messrs. Miskin and Co. in India. In 1908 he married Maria, the only daughter of John Fell Swallow, of Mosborough Hall, Derbyshire. On the outbreak of war, he returned to England and joined the Cambridge University Officer Training Corps. He took a commission as a 2nd Lieutenant in the 2nd Battalion of the 1st Cambridgshire Regiment in October 1914. He went out to the Western Front in November 1916.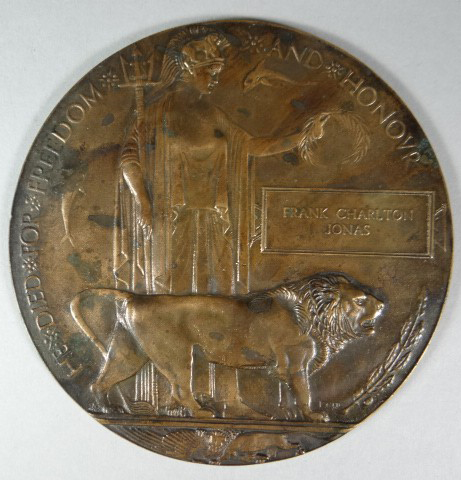 In July 1917 Jonas was commanding C company, whose soldiers were drawn from the Cambridgeshire towns of Whittlesey and Wisbech. They were in the second line of the advance that day and pushed past St Julien occupying captured bunkers – Jonas was sent with two platoons to occupy the bunker known as Border House and hold at all costs. They killed or captured the defenders and held it against successive counter attacks until ordered to withdraw. The party that remained at the end of the day was led by a Lewis gunner by the name of Private Muffett who declined to withdraw until he received written orders because those were the only conditions Jonas said that the position should be relinquished. Muffett had held the position by replenishing the drums for his Lewis gun from the contents of a knocked out Tank.
During the offensive, heavy rains and shelling destroyed the drainage system in the Ypres Salient, creating a swamp-like terrain. This meant that over 125,000 casualties, including Captain Jonas, were never found.
Jonas has two memorials in Duxford, the village where he lived with his wife in the old rectory and where his parents, George and Jane Jonas, owned a farm. The Duxford village memorial Celtic cross was unveiled in 1920 and can be found on the village green. The names on this memorial are ordered by rank and as Captain Jonas was the highest-ranking casualty from the village, he is listed at the top. There is also a plaque within Duxford Church. He has also been commemorated in Ely Cathedral on one of 16 painted oak panels in the Chapel of St George.