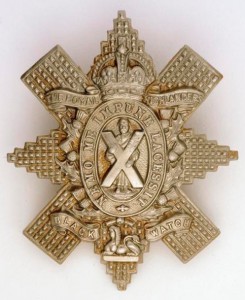 Douglas was the eldest son of Augustus and Bessie Hamilton-Johnston, who lived in Chelsea. He was born on 20th May 1889 and attended Charterhouse before arriving up Grant's in 1904. After he left the school in 1906, Douglas matriculated at London University, and later spent some time in Frankfurt.
On his return to Britain, Douglas enrolled at RMC Sandhurst, perhaps inspired by his mother's father who was a Major-General. After completing his training in February 1909, he joined The Black Watch (Royal Highlanders) as 2nd Lieutenant in the 2nd Battalion and became Lieutenant three years later. The Bareilly Brigade was formed in 1914 as part of the Meerut division of the British Indian Army, and Douglas's battalion became part of this new brigade.
In October 1914, Douglas arrived at the western front with his battalion and served as Transport Officer of No. 1 Company. He was wounded slightly in December by a shell at Centre Section, Festubert, but recovered and was promoted to Captain in February 1915. He was wounded a second time on the 3rd March while preparing for the Battle of Neuve Chapelle, and this time was invalided home.
Whilst back in Britain, Douglas helped to train volunteers at the training camp at Bordon, Hampshire. One of the volunteers, David Elder Robertson, wrote to his parents on 26th September 1915, following a three-week brigade exercise: "ÔǪ Well I was glad when it was over for I was a tired one without sleep. If I had not had a stripe I would have got a sleep all right but I had to look after a section. Well I told them I was handing in my stripe and I was paraded in front of the Captain [D.C. Hamilton-Johnston], and I was fairly put through the mill and asked my reason for it I made the excuse I had no notion of it and he told me I was foolish. He said I was picked out as qualified for the job and that if I changed my mind I would not be long in getting another but I stuck to my decision so he said he would see about it. I am still wearing the stripe till I am told to hand it in but I have heard no more about itÔǪ"
Douglas returned to the western front in November 1915, and went with his battalion to Mesopotamia, where he was mentioned in despatches. In January 1916, he became a temporary Major, taking over from Colonel Wauchope, who had been severely wounded at the Battle of Sheikh Sa'ad. On the 21st January 1916, Douglas lead the 2nd Black Watch in an attack on Hanna, but by the end of the day he was reported as "wounded and missing (presumed killed)". His former commanding officer, Wauchope, wrote:
"And right well did he respond to the call of duty. Both as Adjutant, under Colonel Wauchope, and as Commanding Officer, he had complete faith in the Battalion as had the Battalion in him. He was first wounded and then killed in this assault, but he died with the knowledge that he had kept its fighting spirit unbroken to the end."