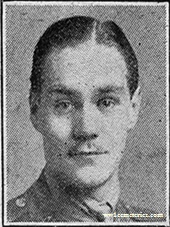 Rolf Neill was the only son of Harold and Louisa Neill of 22 Eldon Road, Kensington, London. He was born on 7th February 1898 and arrived at the school in September 1911.
He represented his house – Ashburnham – in Football, and eventually captained the Westminster 2nd XI by the time he was in his final year.
He was a member of the school's Debating Society. On Thursday 9th March 1916, he seconded the motion "that in the opinion of this House it is inadvisable for Great Britain to attempt reprisals for air raids." He is recorded in The Elizabethan as arguing:
"…we had already attacked fortified towns, but reprisals would be the attacking of unfortified towns. Taking reprisals would only cause competition with the Germans, and make them more 'frightful' than ever. Also we have no aeroplanes to spare."
In February 1915, he enlisted as a 2nd Lieutenant with the 3rd Battalion Royal Scots Fusiliers, and was attached to the machine gun corps the following December. He left the school in April 1916 to join the Royal Flying Corps (Special Reserve) as a 2nd Lieutenant, and he became a Flying Officer with them in August.
In September 1916, he joined a Sopwith Squadron on the western but was only out there for a couple of months before being invalided home. He was able to rejoin his squadron in March 1917, but was killed in action near Messines on the 3rd June 1917.
His obituary in The Elizabethan reads as follows:
Mr. NEILL, the only son of Mr. Harold Neill, of Kensington, was at the School from September 1911 to Easter 1916, and was second Monitor in Ashburnham. He left School to join the Flying Corps, and after some meritorious and successful service, fell within the German lines. Our own generation mourns an excellent fellow.