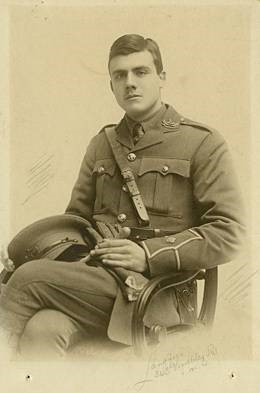 Stephen Codd was the only son of Arthur and Florence Codd of West Hampstead. He was born on the 24th October 1891, and was admitted to Homeboarders House as a non-resident King's Scholar in 1905.
He was a keen public speaker, regularly participating in the Debating Society. On 17 February 1910, Stephen argued in favour of Vivisection: he "fluently demonstrated what benefits had been conferred upon mankind by vivisection, and indulged in some rather gruesome detail."
In his final year at school, he won first place in the Orations — a public speaking competition — and was commended for his "sweeter voice" and was "word perfect" in the final performance of a passage from Isaiah predicting the fall of Babylon.
Stephen left the school in July 1910, and entered the office of the High Commissioner for South Africa, Herbert, 1st Viscount Gladstone. However, after three years, Stephen decided to take holy orders, and went to King's College London, where he gained the Wordsworth Latin Prize in the Intermediate B.D. Exam, in 1914.
In September 1914, he enlisted in the Universities and Public Schools Battalion of the Royal Fusiliers, and was made 2nd Lieutenant, 11th (Service) Battalion, Gloucestershire Regt in the December of that year. He was attached to the 7th Battalion and went out to Gallipoli on 24th September 1915. That November, Gallipoli was hit by a great blizzard; Stephen suffered from frostbite and was invalided home.
After his convalescence, he went out to the western front on 24th August 1916, where he took part in the attack at High Wood. The plan was to use tanks later on in the month, and Stephen's regiment was preparing the way by attempting to penetrate into the German trenches. Stephen was the only officer of his battalion to succeed in doing so, but he was never seen again.
In June 1917, the King's College Review quoted a letter that Stephen's Colonel wrote: "The regiment attacked on the 9th and your son gallantly led his men into the enemy's lines but were driven out by superior numbers. Your son was last seen at the head of his men… he was a brave splendid officer and at once made himself popular with his brother officers and men."