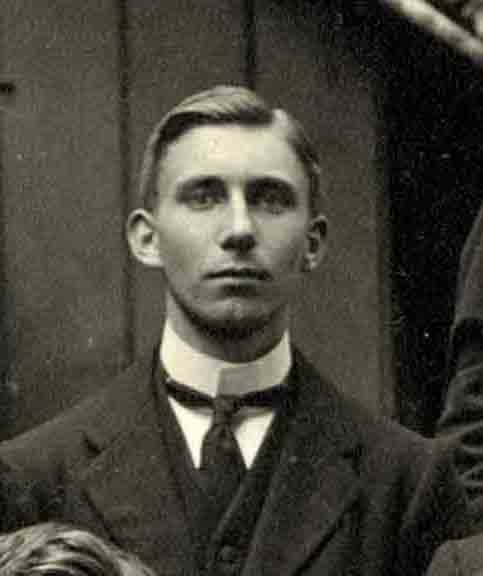 James Montague Edward Shepherd was born on the 2nd December 1895. He was the only son of Montague James Shepherd and Therese Louise, daughter of V. Cazabon, of Paddington.
He was admitted to the school in April 1910, and started off in Home Boarders, but switched to Grant's at the beginning of Play 1911.
He elected to take the 'Modern' subjects instead of the 'Classics', and was an active participant in the Debating Society. In March 1914 he argued, alongside R. R. Turner, that "the man of science is of more use to the community than the man of letters" — a motion that was lost by 10 votes to 9.
He earned himself a Shooting Pink in 1912-13 and was made Captain of Shooting. In Election Term 1914, according to The Elizabethan, he "won the Brinton Medal with the fine score of 61; considering the wind, it was a praiseworthy performance".
His behaviour at the school was not wholly positive, however, as the Grant's House Ledger records in 1914:
"A distinctly unpleasant incident occurred at the end of this term, when Shepherd who had been ragged a good deal during the term, suddenly lost his temper and broke Hodgson's jaw. As it was considered to have been done in a fit of blind rage and with no premeditated malice, no steps were taken and the matter was allowed to drop. Hodgson's Jaw next term had completely recovered."
Shepherd left the school in 1914 "desirous of entering the Royal Flying Corps", and matriculated at Trinity College, Cambridge. In January 1915, he enlisted as a 2nd Lieutenant with the 15th (Service) Battalion Rifle Brigade and went out with them to the western front the following September. He was promoted to Lieutenant in November 1915, and then to Captain a year later. He achieved his aim of joining the RAF as a Flight Commander R.A.F. on the 6th December 1916.
He was reported missing in action at Bixschoote, near Ypres, on 15th February 1917 at the age of 21. By July, he had been confirmed dead.