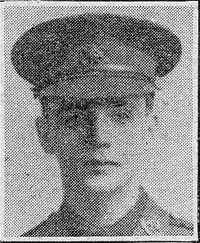 William Nelson was the only son of Peter and Gertrude Nelson, of Mayfair. He was born on the 11th November 1895 and was admitted to the school as a King's Scholar on the 23rd September 1909.
William was a member of the debating society. On one occasion, he opposed the building of a Channel Tunnel: he "very properly dealt with the matter from a military standpoint, and thrilled the society with blood-curdling calculations as regards military matters" [27 November 1913]. And on Thursday 12th February 1914, he seconded the motion "that in the opinion of this House the risk to human life involved in exploring uninhabitable countries is not justifiable", arguing that "there was no reason why anyone should want to go to the South Pole again now that it had been discovered. He ÔǪ argued that the fact that these regions were inhabited in the past was of very little interest to most people, and they were not likely to be habitable again for a very long time".
William was strong academically; when he left the school in 1914, he was awarded a Triplett Exhibition for three years, a value of £20. He was also a keen sportsman, coming second in the 1914 One Mile Open Challenge Cup and competing in school gymnastics. "W.H.V. Nelson is a good gymnast and was last year very nearly good enough to represent the School. On this occasion [Inter-House Gymnastic Competition, 23 March 1914] he was a little below his usual form and made several unexpected mistakes."
In the September after he left the school, William joined the 11th Battalion Sherwood Foresters as a 2nd Lieutenant. He became Lieutenant in July the following year and was attached to the 10th Battalion.
In November 1915, he went out to the western front where he was wounded twice. He died on the 8th July 1916 of wounds he had received in action at Fricourt, Somme.