Wilfred was the second of his family to attend Westminster; his elder brother Gilbert had already been at the school for two years when Wilfred was admitted up Rigaud's as a non-resident Queen's Scholar in January 1897. When Gilbert left the school in 1899 Wilfred became a boarder.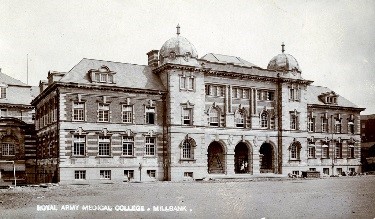 At the age of 16, Wilfred sat and passed the entry exams to R.M.A. Woolwich. He left the school in 1900 and had worked his way up to Lieutenant by November 1904. He retired from the army in 1907 to become a journalist and worked on the staff of The Standard and The Globe newspapers.
Following the outbreak of war, Wilfred rejoined the army as a Lieutenant in the 12th Service Battalion, King's (Liverpool) Regiment on 1st October 1914 and was promoted to Captain at the end of December. His battalion was attached to 20th (Light) Division, which was somewhat chaotic at this early stage, and lacking in trained officers and equipment. The Division assembled in Aldershot, and were moved to Surrey before ending up on Salisbury Plain in April 1915.
They were ready to be inspected by King George V at Knighton Down and finally landed at Boulogne on 27th July. They spent some time around Fleurbaix, where they had training and their initial familiarisation with the trenches.
He was invalided home in February 1916 on account of wounds received while on active service and sent to Millbank Military Hospital, which is near the site of the Tate Britain. He died there from the effects of his wounds on 10th April 1916 at the age of 31.