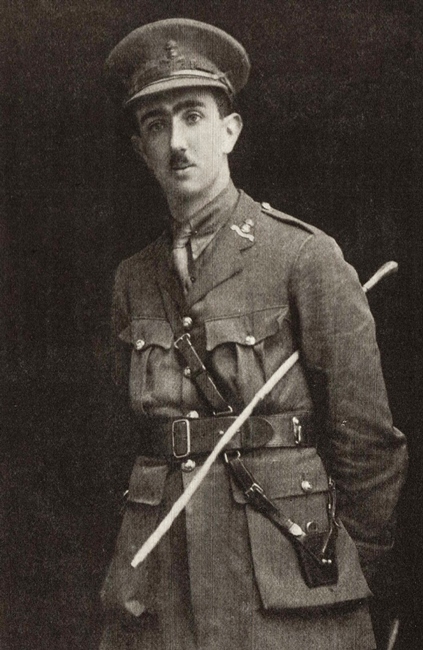 Thomas Henry Liddon Addis went by the name of Henry. His parents had lived in Melbourne, Australia before he was born. His father was the Reverend William Edward Addis, and his mother was Mary Rachel, daughter of Robert Flood, of Sydenham, Kent. They arrived in England on The Gulf of Siam in 1893 with their infant daughter, Robina Law (known as Ena).
The family settled in Nottingham, where they had a second daughter, Annie Brooke, in 1894. But Annie died when she was less than a year old. Henry – the only son – was born on the 24th August 1897.
By the 1901 census, the family had moved to Oxford, where they were living on Holywell Street. They had two servants, Mary Ray and Ada Chauk, and hosted a 26-year-old boarder called Philip E. Richards. During that time, Henry attended the Dragon School, who have shared a thoughtful biography of him in their online Portrait Gallery.
The family had moved to London by 1911, where Reverend Addis was Vicar of All Saints, with Holy Trinity, Knightsbridge. In September 1911, Henry arrived at Westminster as a Homeboarder. He was one of those boys who left few traces in the school magazines or archival record. However, we do know that he competed in the Tug of War in May 1914, and that he weighed 11st 6lb.
The month after he left the school in July 1915, he enlisted as a 2nd Lieutenant, 4th Battalion (Extra Reserve) Royal Dublin Fusiliers. His sister Ena married an Alexander P. Richer in 1915, and they went on to have a son, Alex Neil Richter.
Henry was wounded in the Dublin insurrection on 27th April 1916 and, following his recovery, went out to the western front on the 12th July 1916. Back home, his father died in Twickenham on 20th February 1917.
He rose to Lieutenant in July 1917 and was wounded a second time at Lelonguet the following July. Henry was killed in "Sandbag Alley", Lempire, France on the 21st March 1918.
In Nottingham, on the grave of the sister he never knew, is written:
"Some of the many in this town who knew and loved him, desire to record on this stone, in token of their never-changing regard, the death of her [Annie's] father which to their deep sorrow, took place at Twickenham, on February 20th 1917. They bear in memory, too, with pride and affection, his son Henry, who fell in action in France on March 21st 1918, in his 21st year."