Whilst at school Denis Duncan Philby lived in the shadow of his older brother Harry St. John Bridger Philby. Harry Philby was Captain of the School and elected to Trinity College Cambridge with the junior Samwaies scholarship. A talented cricketer, Harry went on to become a well-known Arabist and father to Kim Philby, the infamous 3rd man.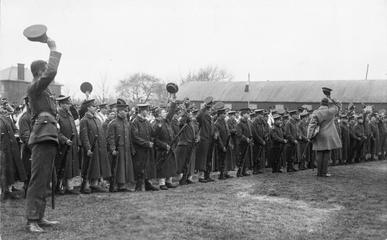 Comparatively we know little of Denis Duncan Philby's short life. He joined Ashburnham House in 1903 but later moved to Grant's, presumably so that he could board. He took part in a House debate stating vociferously that he disapproved of Oliver Cromwell's policies, particularly those towards Ireland. The football report notes that he 'was very good at pushing his way up the touchline and at times surprised us by scoring goals'.
He joined the army well before the outbreak of war, joining the Royal Dublin Fusiliers in 1910 (presumably there was some family connection with Ireland). He was attached to the 2nd Battalion of the Royal Munster Fusiliers on August 18th 1914 and went out to the Western Front a few days later.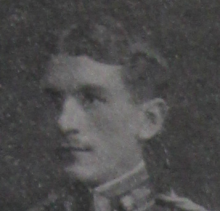 On the 27th August the 2nd Battalion was chosen to form the rear-guard to cover the retreat of the 1st Division during the Battle of Mons. The 2nd Battalion suffered large casualties losing 9 officers and 87 other ranks whilst many more were taken prisoner. They stemmed the German forces who were five or six times their strength for over a day, allowing their division to escape. When the scattered battalion reassembled on 29 August it was down to a mere 5 officers and 196 others. New recruits were co-opted over the next two months to bring the battalion back up to size.
The next action took place at Klien Zillebeke, near Ypres on November 12th, defending against the last major German offensive in the First Battle of Ypres. It was here that Philby was killed in action. He is buried in the New Irish Farm Cemetery in West-Vlaanderen, Belgium