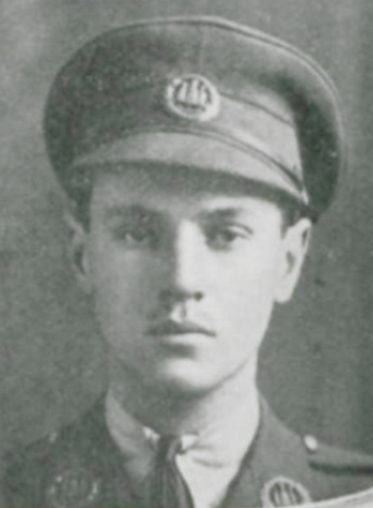 While he was at Westminster School between 1908 and 1912, Ralph Davison was a keen swimmer, cricketer and footballer. He also took part in the school's Officers Training Corps, where he was Cadet Lance-Corporal.
After leaving school, he entered an engineer's office, but in January 1914 he joined the Northamptonshire Regiment. He was attached to the 1st Battalion and went out to the western front in August 1914.
He fought and was wounded at the first battle of Ypres in Nov. 1914. He recovered, however, returned to the front line and was promoted from Second Lieutenant to Lieutenant on the 22nd of March 1915. He was killed in the disastrous attempt to take Aubers Ridge during the combined Anglo-French offensive in the Second Battle of Artois. His younger brother, who had followed him into Rigaud's house, was still at the school at the time of his death.
Ralph Davison was remembered in the June edition The Elizabethan:
We are sure that the whole House tenders its most sincere sympathies to Davison, on the death of his brother R. Davison (Old Rigaudite) who was killed in action on Sunday, May 9. We must also congratulate Davison on being made a School Monitor. A brother Officer wrote: – 'He was killed gallantly leading his mean in the attack on the German trenches. Out here he always behaved with the greatest pluck. I remember him especially in Ypres in November, when we were so hard pressed.'