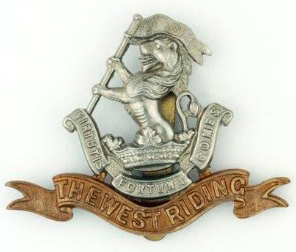 Nicholas was the youngest son of Sir Edmund Lechmere who was MP for Worcestershire. He arrived at the school up Ashburnham in May 1895 and studied modern languages and science, rather than Classics. He left in Election 1897 and four years later he enrolled at RMC Sandhurst.
He became 2nd Lieutenant of the Scots Guards in May 1902, just when the Scots Guards were returning home from the Boer War, but he retired from the army in 1906.
On the 23rd June 1904, Nicholas married Mary Katherine Pegg of Basingstoke, who was the only daughter of Major John Pegg, but she died after only six years of marriage. They had no children.
When war broke out, he re-joined the army as Captain of the 10th Service Battalion, Duke of Wellington's (West Riding) Regiment and was attached to the 2nd Battalion. He was sent out to the western front in June 1915.
He was killed in action, aged 34, while attempting to capture the Hohenzollern Redoubt, near Loos