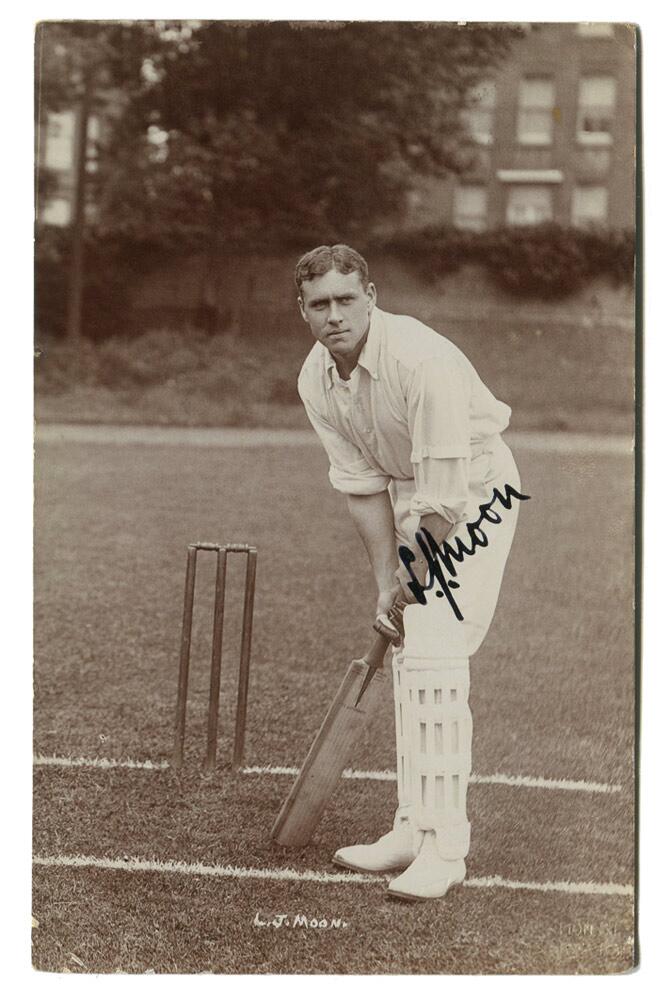 Leonard James Moon was at Westminster School, up Grants, from 1891 until 1896. He was the youngest of three brothers who were all exceptional athletes. Leonard was in both 1st XIs and continued to play association football whilst at Pembroke College, Cambridge and cricket of Middlesex in 1899 and 1901. In 1905 he played cricket for the national side against South Africa.
Wisden records that:
In the autumn of 1905 he was second in the averages for the M.C.C.'s team in America with 33.00, and before the next season opened toured South Africa with another M.C.C. side. During the latter tour he made 826 runs with an average of 27.33. He was a vigorous batsman who could cut well, and a useful wicket-keeper. At association football he gained high honours, obtaining his blue for Cambridge and playing for the Corinthians.
After university Leonard went into teaching and became Head Master of Wellesley House School, Broadstairs, Kent. After the outbreak of war, he enlisted in the Inns of Court Officer Training Corps, taking a commission as 2nd Lieutenant in the 10th Battalion of the Devon Regiment in February 1915. He served in France but lost his life in near Salonica in Greece.
Leonard was recorded in the school's roll of honour as having died from wounds, but records found in The National Archives reveal that he actually committed suicide. Letters he left just before he died suggest that he was concerned about a rumour which had been spread about him and feared it would bring his regiment into disrepute. Leonard seems to have been suffering from paranoia as a result of what would now be identified as post-traumatic stress. A subsequent investigation found that his concerns were groundless.