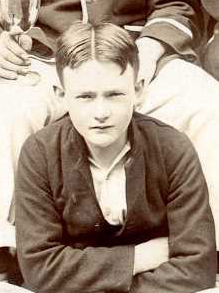 Robert Dodds was the only son of a Surrey solicitor and was admitted into Ashburnham in September 1906.During his first year at the school he achieved success in the school concert, where he "shone asÔǪ soprano". He took part in Ashburnham's entry for the Inter-House Glee singing competition, although they did not win. They performed the set piece The Haven by Barnby as well as the other competitors but their voluntary — Elgar's The Sea Hath its Pearls — was "too ambitious".
After leaving the school at Easter 1911, he became a clerk to a firm of brokers on the London Stock Exchange. On the outbreak of war, he joined the Inns of Court OTC, where he was trained in preparation for his deployment to the front line, along with fellow-OW Winfield J. Bonser. On the 19th September 1914, he became 2nd Lieutenant 13th (Service) Battalion, Northumberland Fusiliers. Just over four months later, he was promoted to Lieutenant. On 9th September 1915, he was sent out to the western front with his battalion as senior subaltern, a role which probably included duties such as acting as a representative of the subalterns to the Commanding Officer and advising a younger officer on conduct and appearance.
Robert's battalion fought in the Battle of Loos, the first battle in which the Allies employed chlorine gas as a weapon. On the 25th of September, the British took Hill 70 under cover of smoke-screens, but it was retaken later in the day due to a delay in reinforcements and supply of munitions. The following day, German reinforcements arrived in large numbers. So when the British attacked again, thousands of infantry men were mown down by machine guns.
Robert Dodds was one of six former pupils who were killed in the first two days of the Battle of Loos.
On the Western Front Association website, you can read an eyewitness account of the Battle of Loos as it was experienced by a 19-year-old Lewis gunner.