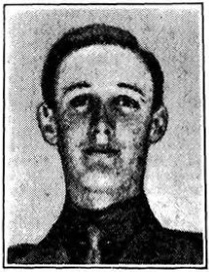 During his time at the school, Worthington was a member of the Scientific Society and shortly before he left the school in December 1914, he read a paper to the society on 'Insects and Disease', which he "illustrated with a series of personal drawings".
He was also in the Officer Training Corps and, in the February after leaving school, he sat the Sandhurst Examination. He took a high place on the lists and was sent to Northern India in April 1915 to the newly re-opened Cadet College in Quetta. Worthington was one of the first batch of 100 cadets to undertake a six month course to train to be a British Officer in the Indian Army.
The cadets' working day was between 6am and 11pm, and included an intensive introduction to infantry and cavalry tactics, field engineering, map reading, musketry, sanitation and language instruction in Hindustani, along with drill and physical training.
Worthington was taking part in a routine Bathing Parade in a lake near Quetta on the 22nd of July, when he was accidentally drowned. The Commandant of the College wrote: "your son showed every prospect of becoming a good and useful officer. He was a most popular lad, and we are all most deeply grieved at the loss of a most promising young life on the threshold of its career."
On the British Path├® website you can view footage of a First World War British Army Bathing Parade:http://www.britishpathe.com/video/bathing-parade