Kenneth Harrison Alloa Kellie was born in Maida Vale on 28th July 1874, the last of seven children. He joined Grant's House in 1888 and spent five years at the school, before going on to Caius College to read medicine. He enjoyed rowing both at school and at University where he was part of fours and eights and took on some coaching. He was also a freemason and a founder member of the Caius Lodge.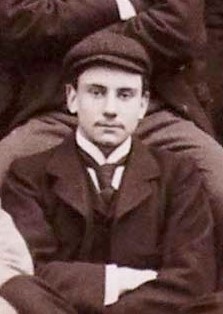 He undertook further studies in Paris, New York and Boston. He married in 1901 and the couple had a child, Charles, in 1902. The baby only lived for a short time and the marriage remained childless. It must have been very difficult for Kellie, who specialised in paediatric medicine, working as a doctor at the Victoria Hospital for Children and the Belgrave Hospital for Children. He also had his own practice in Cavendish Square.
In 1914 at the start of the war, Kenneth was still in private practice and served as a special constable for a while. He was gazetted a Lieutenant in the Royal Army Medical Corps in April 1915 and sailed for France on the 12th May, attached to the Guards Brigade. According to his masonic obituary, he was promoted Captain in April 1916 on joining the Canadian Contingent as second senior Medical Officer. He went to serve in the 104th Field Ambulance at Derancourt, near Albert and was killed on the 25th June 1916. In his will, he left £1000 to the Belgrave Hospital for Children.