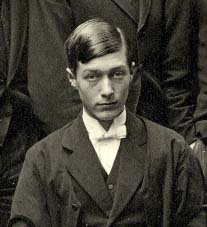 Norman Mortimer Joseph Kohnstamm was the eldest of three brothers to attend Westminster. His parents were Rudolph Kohnstamm, of Hampstead, and Emily, daughter of Jacob Piza, of Maida Hill.
He was born on the 26th February 1897, and was admitted to Grant's in 1910. He became a non-resident King's Scholar in 1911.
Norman was made Head of Grant's in 1914. The following incident – in his own words – is recorded in his house ledger on 29th March 1915:
It is the last evening of Lent Term 1915 and the event that I am to describe took place on the last evening of Lent Term 1914; on the evening in question we had our annual fire-escape practice, the canvas shute had been thrown out of window and according to custom I was the first to descend; I managed to get half way down without any misadventure, but no further, there I remained, the lower end of the shute had unfortunately either been retained at the big dorm window or had stuck in a window on the way down, anyhow after a considerable amount of rather unnecessary excitement on the part of everyone but myself I was at length hauled into safety hanging onto the rope that constituted part of the fire escape, the rope I might say is in a distinctly work out and rather precarious condition and I advise no-one to repeat my adventure unless absolutely necessary.
Only a short time into his tenure as Head of House, Norman fell ill with scarlet fever:
…from which I did not rise for 10 weeks, for the next 6 months I was kept in exile and did not return to Westminster until Lent Term 1915. I left at the end of that term somewhat abruptly as I was at last enabled to take a commission, which I am still waiting for as I write.
After leaving the school at Easter 1915, Norman enlisted as 2nd Lieutenant with the 3rd Battalion, the Manchester Regiment in May. He was promoted to Lieutenant on the 1st of February 1916, and later became a Captain. He joined the Expeditionary Force at Gallipoli in October 1915 and remained at Suvla Bay until the evacuation in December. He served in the Sinai Peninsula between January and June 1916.
His younger brother Oscar Jacob Charles Kohnstamm was killed in the trenches on the Somme on the 29th June. And Norman himself was sent out to the western front less than a month later. He was killed in action on the 22nd of March 1918.