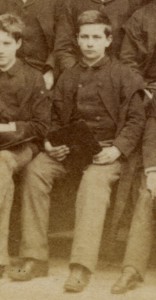 Captain Roos was the younger son of Mr. Gustaf Roos of Queen's Gate Terrace. He was admitted in 1882, became a Queen's Scholar in 1883. In 1887 left the school and was admitted to Balliol College Oxford where he took a first-class in jurisprudence in 1891. As a law student in London he took a very active part in organising and managing working boys' clubs in the East End which were managed as a charitable endeavour. He became a solicitor and often worked as a 'Poor Man's Solicitor' at Toynbee Hall. In the Boer War joined Thorneycroft's Mounted Infantry. He was twice wounded, severely at the Battle of Spion Kop in 1900, and obtained the King's Medal and the Queen's Medal with six clasps. He then remained in Johannesburg practicing once again as a solicitor.
The Elizabethan records that:
He came to England for the war, and though at first refused a commission on the ground of his age obtained it by his importunity. He had boundless energy and great capacity, and was the most unselfish of men. He lived, as he died, for the good of others.
He was killed in action near Serre in the Battle of Somme on 1st July 1916. 'A' Company of the 14th Battalion the York and Lancaster Regiment was under his command and ordered to proceed in file across 'No Man's Land' towards the German trenches. A later report suggests that Roos managed to enter a German trench but was immediately wounded, captured by the German soldiers and taken to a nearby hospital, set up in a church, where he died from his wounds.
He was initially buried in the Fremicourt Communal Cemetery by the German forces in 1916. His body exhumed on 26th June 1924 for reburial in a Commonwealth War Graves Cemetery. He was described as 'a well-developed man with auburn hair and about 5 foot 9 or 10 inches in height, both legs broken, body badly smashed.'