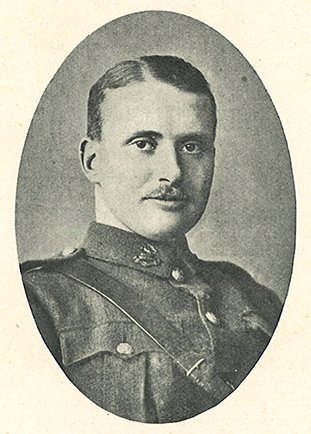 The Elizabethan records that Douglas Morley Griffin was 'the only son of the late William Hall Griffin, the biographer of Browning, was admitted a King's Scholar in 1903, and left on his father's death in 1907. He was a boy of character, and faced misfortune with the courage which he afterwards showed in war.'
Griffin had proved a successful athlete whilst at Westminster, representing the school in gymnastics, although his performance on the parallel bars was once described as 'disappointing'. He was also in the Officer Training Corps and took part in shooting competitions, exceeding the school's 'highest hopes' with an excellent performance at a training camp at Bisley in 1907 leading to promotion to the rank of Lance-Corporal. Upon his father's death it clearly became impossible for his mother to pay the fees necessary for him to continue in his education. In order to support his family he joined an architect's office, Harris and Hobson, in Liverpool, his mother's home town. He attended Liverpool University School of Architecture and became a member of the Royal Institute of British Architects in 1910. He was elected Associate of the Royal Institute of British Architects in 1914.
On the outbreak of war Griffin enlisted, becoming a Lieutenant in the King's Liverpool Regiment in November of 1914 and going out to the Western Front in 1915. His sister also joined the war effort and worked as a nurse in Rosslyn Lodge in Hampstead from 1916 and we know that Griffin gave her a photograph album to record her experiences.
We know little about Griffin's death. His battalion were involved in the Battle of Albert, an offensive which formed part of the Battle of the Somme and ran from 1st-13th July. The French Sixth Army and the right wing of the British Fourth Army inflicted a considerable defeat on the German Second Army but from the Albert—Bapaume road to Gommecourt, the British attack was a disaster where most of the c.ÔÇë60,000 British casualties were incurred.