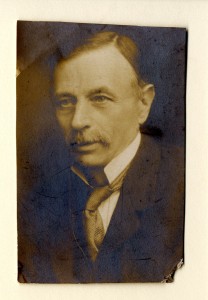 John Sargeaunt taught Classics and English Literature at Westminster from 1890 until 1918. Aged 57 at the outbreak of war he was too old to serve in the forces. Instead he remained at Westminster to educate new generations of boys all the while hearing news from the fronts of the deaths of his former pupils. He wrote this poem during the Play Term of 1914.
Ere Antic Law would count him man,
He filled his life's appointed span,
And warring 'gainst an empire's lust
Hath laid the flaxen head in dust
Where our old foemen's friendly soil
With quiet crowns the brief-borne toil.
Ah happy lad, no doom for thee
Of palsied hand and quivering knee,
Of ashes choking lively fire,
Or garlands trampled in the mire
Nor that worst loneliness when all
Thy peers in age have heard the call.
Nor shalt thou heed if idle Fame
Forget to blaze abroad the name,
Or but bare letters on a stone
Some dim and cold remembrance own;
Enough that from this hallow'd ark
'Twas duty sped thee to the dark.