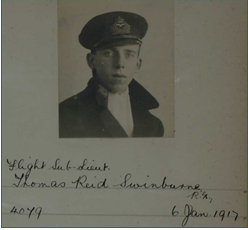 Thomas Swinburne was born on February 2nd 1898, the only son of Major Thomas Baker Swinburne and Mary Hannah Reid. He was baptised in Darlington, County Durham in March of the same year and the family remained living in the town until at least 1911, when they were recorded in the Census. At some point following this they moved to Finchley and when Swinburne was admitted to Westminster School in January of 1913, he was a Homeboarder and thus would have lived at home. It is perhaps for this reason we have very few records of him while at the school, and all his appearances in school publications concern his presence in the Army or his obituary.
Swinburne attended Westminster for about two and a half years, leaving in July of 1915 and subsequently attending King's College London, but seems to have been there for only a short amount of time, taking preliminary classes. On June 1st 1916 he enlisted, perhaps intentionally following his father's footsteps – Major Thomas Baker Swinburne was a recipient of the Volunteer Officer's Decoration, awarded for 20 years of meritorious service by officers of the UK's Volunteer force. Swinburne's own military career took him to the Royal Naval Air Service. He trained in the UK to receive his aviator's certification and was deployed to France in the middle of May 1917.
Swinburne went missing on June 8th 1917, less than a month after arriving at the Western Front and a year and a week exactly after he first enlisted. His death was assumed in 1918, as described in the March 21st edition of Flight, and later reprinted in The Times:
Flight Sub-Lieutenant T. R. Swinburne, R.N., who has been missing since June 8th and is now presumed by the Admiralty to have been killed on that date, was the only son of Major and Mrs T. R. Swinburne, of Holmwood, Beechwood Avenue, Finchley and formerly of Glassensikes, Darlington. Born in February, 1898, he was educated at Westminster School, and King's College, London. Joining the R.N.A.S. in June 1916, he went to France in May, 1917.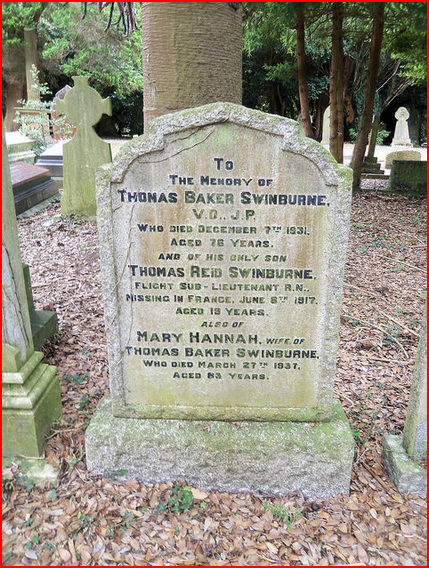 While UK records only indicated that Swinburne was flying a Sopwith Triplane, number N6293, and was chasing an enemy plane when he disappeared over enemy lines, subsequently married German records note that a German flying ace, Max Ritter von Muller, is recorded as claiming N6293 as a kill at 7:10 near the town of Le Quensnoy in northern France. Swinburne is commemorated on the Arras Flying Services Memorial, which lists almost 1000 members of the RNAS, RFC and RAF who were killed on the Western Front and have no known grave. He is also remembered on the headstone of his father, in Darlington West Cemetery.