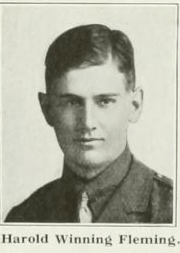 Harold Winning Fleming's parents were Alexander (Alec) John Fleming and Lily Huthart Brown. Alec was a medical doctor in Hampstead. Lily was a daughter of Forrest Loudon Brown, of Bombay, India. In 1891, she was working as a teacher of music, and living in Altrincham, Cheshire, with her sister and widowed mother. Alec and Lily were married in September 1894 in Altrincham, Cheshire.
Harold was born in Hampstead, London, on the 25th of April 1898. He was one of four children: he had an elder brother, Alan McKinstry Fleming, and two younger sisters, Lily Woodrow Fleming and Sheila Laudon Fleming. Before arriving at Westminster, he attended St John's House, Hampstead.
He arrived as a non-resident King's Scholar in September 1911, and joined Homeboarders' House. He was absent for two terms, when he went abroad on account of his health. He left the school for good in July 1915, and attended R.M.C. Sandhurst between August 1916 and May 1917.
In May 1917, he was made 2nd Lieutenant, 1st Battalion (16th Foot) The Bedfordshire Regiment. He went out to the western front May 31, 1917, served with the Expeditionary Force in France and Flanders, and was mentioned in despatches for gallant and distinguished service.
His Chaplain wrote: "I frequently saw him both in and out of the trenches, and we all liked him for his bright and happy disposition, as well as for his keenness and great efficiency. It was no secret that he was considered one of the most promising of the junior officers in the battalion."
On 5th October 1917, Harold was killed in action at the age of 19 by a sniper at Gheluvelt, on the Ypres-Menin Road.
One of his brother officer wrote: "I am certain that at his death the 1st Bedfords lost one of the bravest of its officers."
Another wrote: " The other officers of his company having become casualties early in the attack (Oppy Wood, near Arras), this officer, 2nd Lieut. H.W. Fleming who was in the trenches for the first time, assumed command throughout the attack, and in the subsequent tour of duty showed coolness, gallantry and ability, and his example afforded great encouragement to his men."