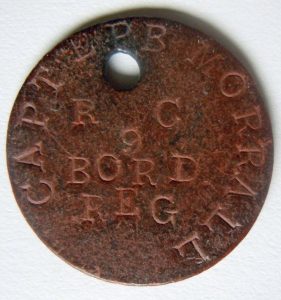 Edgar Percy Basil Morrall was born in Alcester, Warwickshire on 9th August 1884. His father was Lieutenant-Colonel Abel Edgar Morrall of the South Wales Borderers, and his mother was Annie, daughter of George Townsend. Edgar was their only son but he did have a sister, Cathleen, who was two years older.
Edgar arrived at Westminster in April 1896 and joined Ashburnham House. He was only at Westminster until Christmas 1897 and, as he was one of the younger boys, there is little information about his time at the school.
The identity tag shown above was issued to Edgar when he joined the army in October 1914. It is made of compressed fabric, and records his name, his regiment – the 9th (Service) Battalion, the Border Regiment (Pioneers) – and that he was a Roman Catholic.
Edgar became a Captain on 23rd February 1915, and was acting Major when his Battalion went out to the western front later that year. They were later sent to Serbia, and then to the Salonika Front. He was invalided home to England in August 1916, but was well enough to go out again to the western front early in 1917. He was killed in action near Arras, France on 28th July 1917, at the age of 32, leaving behind his wife, Rose Ethel, daughter of John Macdonough MD, of Killarney, Ireland. He is buried at Brown's Copse Cemetery, Roeux.