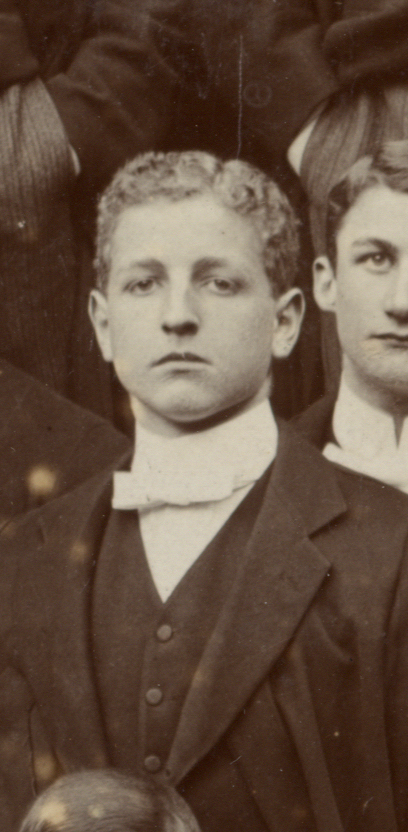 George Sumpter was born in 1891, the only son of Thomas George Sumpter. He was admitted to Westminster in 1905 and joined Homeboarders, before becoming a King's Scholar in September 1906. He remained at the school until 1909, before enrolling at the Royal Military Academy at Woolwich. Almost all accounts and records of his life have reached us through his wife, who wrote an extensive article to the Elizabethan following Sumpter's death.
Upon completing his training at the Woolwich Military Academy he was sent immediately to the Western Front with the 7th Divisional Artillery. He was injured and returned to England, before joining the 25th Divisional Artillery at Frome in December, still suffering the effects of his earlier injuries. He joined the division as a Major, and was heralded as a popular and well-liked officer. In September 1915, he returned to France, and was the youngest Batt­ery Commander in his Division. He remained at the Western Front until wounded in 1916, while reconnoitring positions in preparation for the Battle of the Somme. Although the wound was serious and Sumpter had to return home, he made a speedy recovery. In March 1917, he took command of the D112 Battery, Royal Field Artillery, and went with them to the Battle of Messines Ridge. It was during this battle that Sumpter earned the Military Cross, awarded for bravery under fire.
In June of that year, Sumpter took part in the Battle of Ypres, losing sixty men in two days. In the German offensive of March 1918, Sumpter was forced to retreat, but was awarded a bar on his military cross for skilful rearguard action. He was awarded a D.S.O in May 1918, and in August 1918 took command of B Battery, Royal Horse Artillery. He remained with this battery until the armistice, and was then moved to Russia where he remained for many months, and then Asia Minor, in modern day Turkey. It is here that he lost his life, killed in action at Ismidt, Turkey on the 20th August 1920.