William Duncan Geare joined Homeboarder's House at the School in September 1904. His older brother, Harry Leslie Geare, was a Queen's Scholar and had joined four years previously. Harry would have boarded at the school, but William lived with his parents and sister at 14, Chalcot Gardens in Hampstead.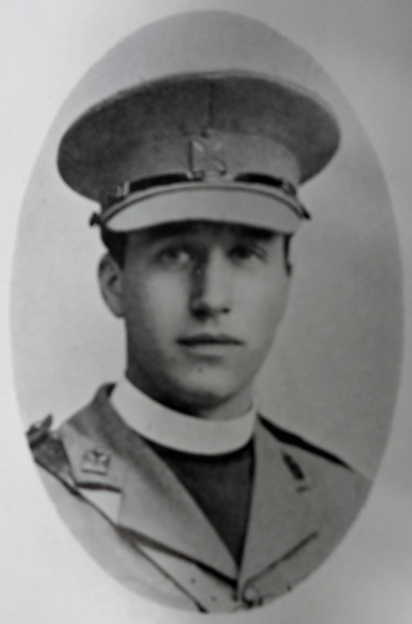 At school he was good at football and cricket, scoring 63 runs in one match in his final year at the school, and receiving colours for his performance on the house football team. In 1909 he went on to Queens' College, Cambridge. After completing his degree he decided upon a career in the Church, attending Leeds Clergy School. He was ordained in 1913 and became the Curate of St. Margaret, Ilkley, Yorkshire the same year.
He became a Chaplain to the Forces in May 1916. He later served with the 7th and 9th Battalions King's (Liverpool Regiment). He was instantaneously killed in Flanders by a shell on 31st July, whilst ministering to the wounded at a regimental aid post on the battlefield. He had been on his way to Plum Farm to bring cigarettes for the men in his regiment. After his death letters he had written home were published by his family.
His Senior Chaplain wrote: "He was absolutely regardless of danger, always anxious to be with his men wherever they went, and he never spared himself in his anxiety to serve them. His bravery and example have been an inspiration, and his work all the time he has been out here has been splendid," and another officer: "He insisted on living with us in the trenches and sharing our common dangers, and he was always doing good in one direction or another. Almost every day he went round some part of the trenches on his own accord, and whenever there was a raid on he was off like a shot to the dressing station to see what he could do for the wounded."
One of his men also wrote: "It came as a terrible blow to me and my chums of the 7th and 9th King's to hear of Mr. Geare's untimely death. If we were in need of help at any time, Mr. Geare was the one to see us through. At one time we had no canteen to keep us supplied with 'fags' while in the line. But Mr. Geare soon altered that, and made us happy. If any concerts were to be organized, leave that to Mr. Geare, and everything would be O.K. In fact if anything was needed to lighten our burdens and make us happy, Mr. Geare was the one to put things right for us. So you can imagine how much we feel his loss, the loss of more than a friend, as he proved himself in his Christian charity and willingness to succour those in need of it. . . . Mr. Geare has certainly, by his heroic death and noble work at all times, shown his critics that clergymen do not, and never did, shirk their duty as patriots by hiding under the protection of the Church."