John Loudon Strain, known as 'Jack' to family and friends was the eldest son of William Loudon and Dorothy Maud Strain. He joined Ashburnham House in September 1910 and remained at the school until 1915, when he left, with a scholarship, to attend Trinity College Cambridge. Whilst at the school he was active in the Debating Society and the Scientific Society. In January 1915 he gave a paper to the latter society on 'Diseases of Plants' in which he showed 'a very thorough knowledge of his subject, which he illustrated with large diagrams on the board'
His ambition was to train as a doctor, but he was also determined to play his part in the war. Initially, as a medical student, he was refused a commission, but he managed to obtain a post as a 2nd Lieutenant in the Royal Garrison Artillery Special Reserve. He went out to the Western Front in September 1916.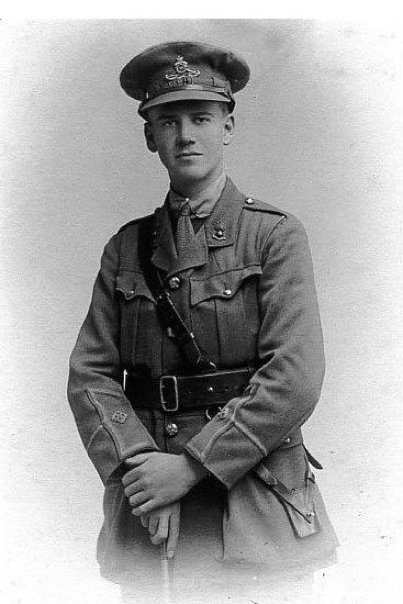 Whilst on leave from the front he visited the school to give a lecture to pupils in the Officer Training Corps within the school.
He was killed in action at Frezenberg, Flanders when he and a fellow officer and signaller were caught in the German barrage.
Jack Strain's family have produced an excellent website, which commemorates his life and includes transcriptions of letters written by Jack, and those sent to his parents following his death. A letter from his fellow soldier, Lieutenant A. W. Cockburn is particularly poignant:
'Nobody could help loving Jack, even people who saw him only occasionally. It took a very short time to size him up as the most perfect little gentleman in his unvarying cheerfulness, his thought for others and contempt of danger when occasion demanded it, and the wonderful way in which he lived up to a wonderfully high ideal of thought and word and deed.
Those of us who knew him intimately in Ypres can hardly believe he has gone. He was the life and soul of the Mess, always joking and playing like a child, and yet most efficient as an officer and hugely respected by the men.'
You can read more here: http://www.jackstrain.co.uk/