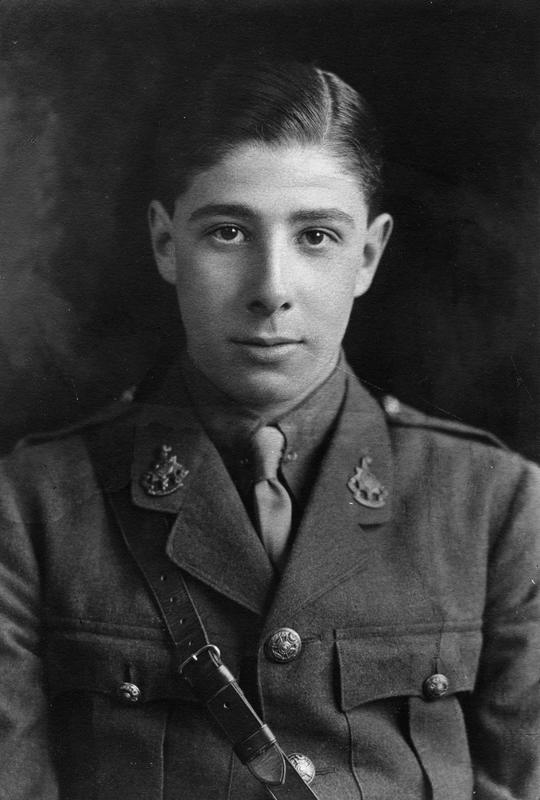 Dallas Gerard le Doux was born in Glamorgan in 1897. He took the additional name of 'Veitch' from his stepfather, John Gould Veitch, who married Dallas' mother, Dorothy, when Dallas was six years old. It was natural that Dallas would attend Westminster School as his maternal uncle and stepfather were both Old Westminsters. He joined the school on 22nd September 1910 as a member of Grant's House, the same house his stepfather had attended in the 1880s.
He also followed in his stepfather's footsteps onto the football pitch. Veitch senior was a football Blue and played for England against Wales in 1894, scoring three goals in the match. Veitch junior was a Cricket and Football pink, captaining the Cricket 1st XI in his final year at school, 1914.
1914 was a difficult year for the family. In October, Veitch senior died, aged only 45, after problems with his health, particularly his lungs. Dallas left school in December and entered a firm of chartered accountants, perhaps wanting to help support his mother and sister. However by April 1915 he was gazetted to the Royal Sussex Regiment as a 2nd Lieutenant. In June 1916 he was attached to the 7th Battalion and went out to the western front.
He was killed in the early morning of 4th August whilst gallantly attacking a German bombing post as part of an attempt to take the town of Pozieres. He was barely nineteen years of age.
The 7th Sussex Regiment war diary entry for that day reads:
"At 3am received orders to send one company over to RATION TRENCH to get in touch with 8th Royal Fusiliers and work up to the right, also one platoon to attack Strong Point on the right, after this had been captured they were to work down RATION and get in touch with 'A' Coy. 'A' Coy went too much to the left but reached RATION TRENCH finding the Buffs already there, Col Cope, (O.C. Buffs) ordered 'A' Coy to push forward and take the ridge which they reached without any difficulty but were heavily counter attacked and obliged to fall back to RATION TRANCH. The platoon on the right came under heavy Machine Gun fire and were not able to capture the Strong Point. Later in the day orders were received for two Companies to attack the right of RATION TRENCH in conjunction with attack of 9th Royal Fusiliers. Two platoons were again to attack Strong Point on right from POZIERES TRENCH 'B & 'D' Coy's attacked across the open but lost direction, some however reached their objective and got in touch with 9th Royal Fusiliers. The two platoons of 'C' Coy were unable to capture Strong Point owing to heavy Machine Gun fire. The result of this operation was that practically the whole of RATION TRENCH was captured and consolidated. Casualties during this two days, 2nd Lts WOOD & LE DOUX VEITCH killed, 2nd Lt's COOKE, FITZSIMONS & ROLFE missing, Captain TROWER wounded. Other Ranks 18 killed, 25 missing, 109 wounded."