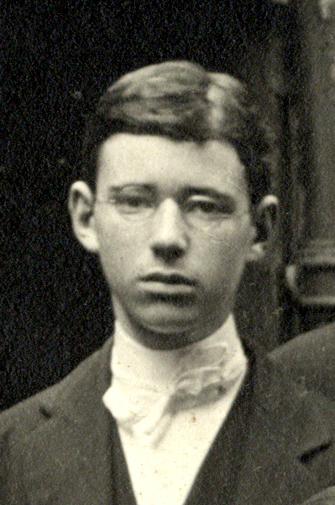 Arthur Charles Lionel Abrahams was the only son of Sir Lionel Abrahams, K.C.B. and his wife Lucy. He was admitted to the school as a non-resident King's Scholar in 1911 and was based in Grant's House. Arthur was Jewish, and his faith may have led him to become an honorary scholar, rather than residing in College.
He excelled at the school and took an active role in the Debating Society. In 1915 he seconded the motion 'That in the opinion of this House the present situation renders Conscription imperative' and the school's magazine, The Elizabethan records that:
'with the help of a great many statistics, informed the House that there were at least one and a half million men who were able to join the Forces. Conscription, he considered, would be fairer and more economical all round. As to the 'volunteer worth three conscripts' fallacy, Napoleon practically conquered the world with a conscript army. He said that the Opposer's views were those of a sentimentalist, and, after informing the House that he knew twenty-seven slackers, sat down.'
Arthur was also heavily involved in the Officer Training Corps, where he made a 'very efficient sergeant'.  On leaving school in July 1916 he was elected to Christ Church, Oxford. However, he chose to join the war and took a commission as a 2nd Lieutenant in the Cold Stream Guards later that summer. He went out to the western front in February 1917 and joined the 3rd Battalion of his regiment there. He was promoted to the rank of Lieutenant in December and was killed in action the following year on 13th April 1918.
An excerpt from his obituary in the Jewish Chronicle, published in June 1918 read as follows:
'The Commanding Officer with whom he served during the greater part of his service abroad has written to Sir Lionel Abrahams, "I knew your boy well and was commanding the battalion when he joined. He was most popular with all ranks, and he was particularly fearless……….Arthur was a Coldstream Guarder through and through. He fought like one and he died like one." The colonel commanding the Guards wrote: "The regiment can ill afford to lose men like him", and from the ranks there has reached his family the equally prized message: "The boys would follow him wherever he wanted them to."
After he had been reported missing his parents learned that he fell on April 13th, when England lost a gallant son, Anglo-Jewry one of the most promising of its youngest generation, and his immediate family the joy of their hearts.'
You can read more about Arthur here:
https://www.jewsfww.london/arthur-charles-lionel-abrahams-1496.php