Jack Buckman was the only son of James and Mary Jane Buckman, of East Dulwich, Surrey. He was born on 11th November 1892, and was sent to Fairfield Preparatory School in Southwark. His paternal grandfather had been a farm labourer, and his maternal grandfather was a rate collector. His father had worked hard to obtain a position as Borough Treasurer of Bermondsey; Jack's parents' decision to send him to Westminster was testimony to their ambitions for their son.
By the time he arrived up Ashburnham in 1907, Jack was suffering from a health condition that prevented him from participating in athletics and other activities, including the OTC. However, upon leaving the school in 1910, secured a place to read Law at Wadham College, Oxford.
He passed his prelims in February 1911, and graduated in June 1914. He was admitted to Middle Temple but, on the outbreak of war, decided to join the Army. He was placed on a waiting list following an unconvincing medical examination, but was soon posted as 2nd Lieutenant with the 8th (Service) Battalion, Gloucestershire Regiment, which was training near Salisbury Plain. He was awarded a first class certificate in musketry, and his leadership potential was judged to be such that he was sent on a special staff course at Camberley.
He was transferred to the 12th Bermondsey Battalion, East Surrey Regiment in 1915 as a temporary Lieutenant, and was promoted to Captain in October 1915. He was given responsibility for 200 men. He went out went out to the western front on 1st May 1916, and on the 3rd of May, the editor of the Elizabethan received the following message: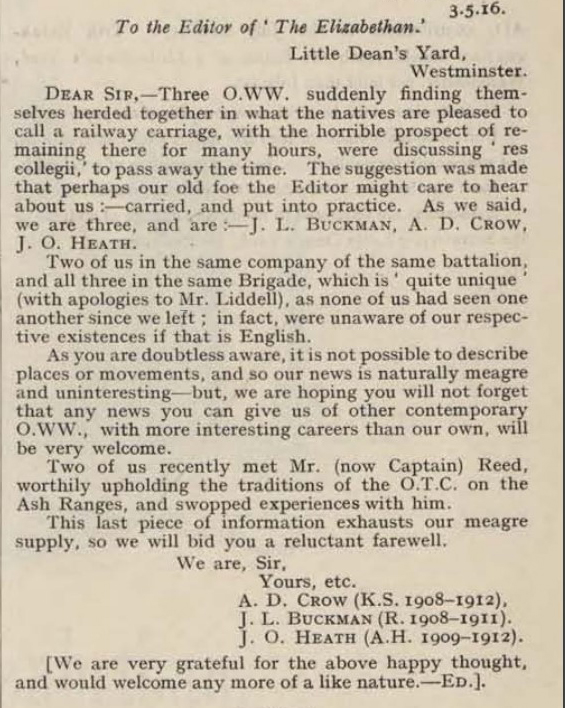 Jack Buckman was killed in action at Flers, France, on 15th September 1916. His parents published a memorial in the London Times every year on his birthday, and on the anniversary of his death.