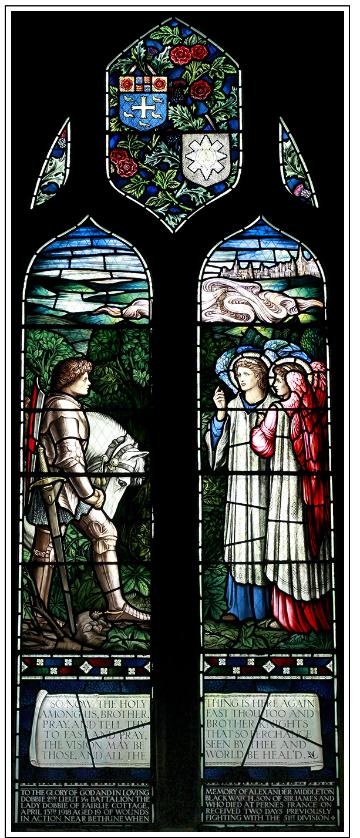 Alexander Middleton Dobbie was born on the 22nd June 1898. His father, James Johnston Dobbie, was from Glasgow originally, and became Professor of Chemistry at Bangor University in 1884. He married Violet Chilton, who was from near Wrexham, and together they moved into Gwaen Deg, Bangor.
Alexander was one of 4 children. He had two elder sisters, Mary Wilkie and Violet Childon, and a younger brother James Childon.
The family moved away from Wales in 1903. First to Glasgow, when James became the Director of the Royal Scottish Museum. And then to London in 1911, where James was appointed Principal of the Government Laboratories in London.
Alexander arrived at Westminster in September 1912, and joined Ashburnham House. He was a keen sportsman: he represented his house in the 1915 at swimming in the relay team, and in the semi-finals of the Inter-House Tug of War on 5th April 1916, weighing in at 9st 12lbs. He earned his pink and whites in 1916 for Football, and became a house monitor in his final year.
After leaving the School in December 1916, he enlisted in the army. He joined 1/6th Battalion, the Black Watch (Royal Highlanders) as a 2nd Lieutenant on the 26th April 1917. He went out with them to the western front in August 1917.
He was wounded in action near Bethune on 11th April 1918, and died two days later at Pernes. There is a stained glass window in his memory in Fairlie Parish Church.
As for Alexander's siblings: his sister Mary went away to India and got married there to a George Frederick Ferrier Shearwood. Violet married the chemist Norman Hawarth in 1922, who went on to receive the Nobel Prize in Chemistry in 1937. James went on to become an observer at the Solar Observatory, Cambridge University.