In 1914 Westminster School had what was known as an Officer Training Corps ('Corps' is pronounced 'core' as it originates from the French meaning body).
The Cadet Corps, as it was originally known, had begun in 1902, in the wake of the Second Boer War. Uniforms were acquired shortly afterwards and around 100 boys took part in regular drills. By April 1903 a company of pupils attended a camp in Amesbury, where they were shocked by the 'very hard mattresses' and blankets 'not of the finest texture'. Manoeuvres later in the week were 'enlivened by a snowstorm' but on the whole the pupils enjoyed themselves. Over the following years the Corps became established as a routine part of school life. A similar process occurred in many other Public Schools at this time.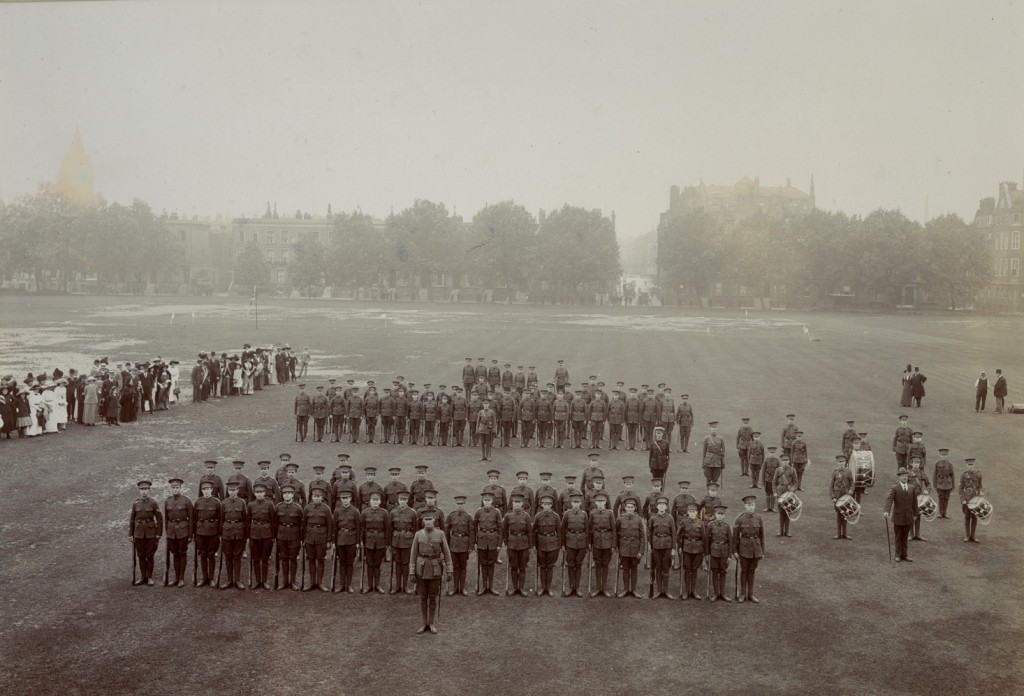 Lord Haldane, whilst Secretary of State for War, formalised these various Corps into Officers' Training Corps (OTC). Haldane was particularly concerned with the performance of the British Armed Forces during the Boer Wars. By providing this early military training he hoped to increase the number and quality of young men joining the army as officers. The Corps had two divisions, a junior division for Public Schools such as Westminster and a senior division for Universities.
In the Summer of 1914 more Westminster pupils than ever attended the OTC camp at Mytchett, but it was cut short as the Army Cooks assigned were recalled. A pupil's account in The Elizabethan remarked that 'Camp is apt to be more pleasant when gloomy rumours, such a prevailed in Mytchett, are not rife'
When pupils returned to Westminster after the summer holiday, those not already in the OTC rushed to join. There were 109 new recruits at the beginning of the Play Term leaving fewer than 60 boys in the school who were not members of the corps.