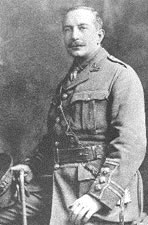 William Penn Gaskell, belonged to a well-known Irish family, and in 1905, upon his father's death, he inherited the Shanagarry estate, County Cork. He was a descendant of the famous Quaker, William Penn, who founded the state of Pennsylvania.
William came to the school from Rugby and was admitted in 1886 to Homeboarders' House. He left the school in July 1889 and travelled to Chile. His maternal grandfather was from Peru so his interest in South America was not surprising. William lived in Iquique and Antofagasta, eventually becoming manager of a nitrate works in the town.
On the outbreak of war he made the decision to give up his job and return to England to serve in the Army. He was made a Captain in the 18th Battalion of the Manchester Regiment in February 1915 and proceeded to France in August 1916.
He was killed in the action at Flers on the Somme front. He went over the parapet to the attack in support of the Royal Scots Fusiliers, who were held up for a time by intense machine-gun fire. Notseeing any Officers of the Scots Fusiliers, he decided to push on, and he rallied the line when he was shot in the arm. While his servant was dressing the wound, a shell burst near and both were instantly killed.
His Colonel wrote :-
'I admired his pluck and energy very much indeed in setting to work at his age to fit himself for the Front, and I always considered him a magnificent example to all of us and a pattern of everything an Officer and a gentleman should be. His fine example and gallant death, while he rallied his men, made the greatest impression upon all his comrades. His influence on his men was most inspiring.'