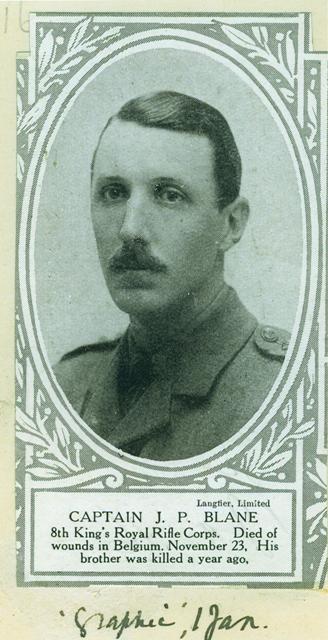 James Pitcairn Blane was in Ashburnham House from May 1895 until July 1901. He was a keen cricketer and played in the school's XI with the highest batting average in the team of 24.0. When he left the school he became a mining engineer, spending four years in Western Australia and travelling to West Africa on several occasions. On the outbreak of war he was the manager of a mine in Cornwall. He joined in the 8th Battalion of the King's Royal Rifle Corps in October 1914 and went out to the western front in May 1915.
Blane was seriously wounded at 5pm on 19th November whilst to the left of the B16 trench to the north-east of Ypres. He was hit by a 'whizzbang' the nick name given to German field artillery shells. The name derived from the fact that the shells fired from German 77mm field guns travelled faster that the speed of sound and therefore soldiers heard the 'whizz' of the shell travelling through the air towards them before the 'bang' issued by the gun itself upon firing. The result of this high velocity was that defending soldiers had very little notice of the incoming shell. Blane was taken to the nearby military hospital in Poperinghe but died in the early hours of the morning of 23rd November.
His younger brother, Hugh, died in active service in 1914 and his elder brother, Cmdr Sir Charles Rodney Blane killed in action at the Battle of Jutland in 1916.
Blane had played cricket for MCC and is also commemorated on the club's roll of honour.