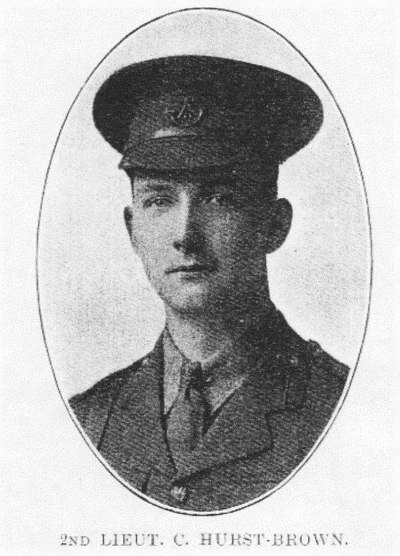 Cecil was born in Bayswater, the middle son of William Hurst-Brown, a stockbroker, and his wife Ethel Mary Dredge Newbury Coles.
He was an active sportsman: a double pink whilst at school and then secretary of the University Association Football Club whilst at Christ Church, Oxford. He played cricket whilst at Westminster, gaining a place on the 1st XI and averaging 14.60 and 19.00 in the 1912 and 1913 seasons.
Upon the outbreak of war he left university and joined the Royal Military College at Sandhurst. On 16 December 1914, he was gazetted 2nd Lieutenant in the Oxford and Bucks Light Infantry, and was posted to the 2nd Battalion, which he joined in France on 7th June 1915. He died on 26th September 1915, having been wounded in action the previous day.
His younger brother, 2nd Lieutenant Dudley Hurst-Brown, 129th Battery R.F.A was wounded on 13 June 1915, and died two days later. A family historian said of Cecil's death that "he was the second of two brothers killed within three months of each other. It sent my wife's great grandmother [Cecil's mother, Ethel] insane with grief – she spent the rest of her life in and out of mental hospitals – thus two casualties became three – very sad."