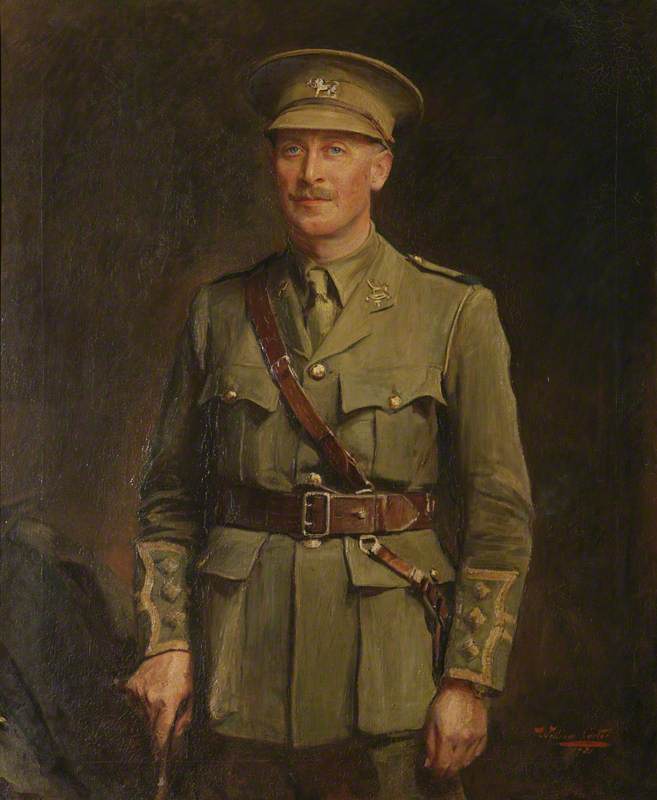 Sir Archer Croft was at the School as a boarder in Rigaud's from April 1882 to Christmas 1884. The Times printed the following notice upon his death:
Captain Sir H. Archer Croft, Bart., 1st Herefordshire Regiment, reported missing on August 10 in Gallipoli, and now believed to have died of his wounds, was born on September 5, 1868. The eldest son of the late Sir Herbert Croft, 9th Bart., of Lugwardine Court, Hereford, and Georgiana Lady Croft, he was educated at Westminster, and joined the 4th King's Shropshire Light Infantry with a view to entering the Grenadier Guards, but he went out to Australia instead to manage some family property there, sheep farming.
Within three days of the declaration of war he enlisted as a private in the 1st Herefordshire Regiment (T.), offering to raise a company of 150 men, which he did within a week, personally recruiting 100 himself. He was gazetted second lieutenant two weeks later, and Captain in November, 1914.
Sir Archer was a Deputy Lieutenant and Justice of the Peace for Herefordshire, High Sheriff in 1911, and a member of Herefordshire County Council. He gave a great deal of his time to public work in his county, especially in connection with the Herefordshire General Hospital.
As the tenth baronet (creation 1671) of Croft Castle, Hereford, Sir Archer was the head of one of the few families in England who can trace a direct male descent from a time before the Conquest, being descended from Bernard de Croft, who lived in the time of Edward the Confessor. In Domesday Book this same Bernard is mentioned as holding the lands of Croft, which his descendants inherited until the close of the eighteenth century, when the property was sold. Since the days of the Crusades, when Sir Jasper Croft was created a Knight of the Holy Sepulchre by Godfrey of Boulogne at the taking of Jerusalem, A.D. 1100, the Crofts have continuously served their king and country as soldiers. Members of the family have fought in most of the English wars, notably, at the Battle of Agincourt, in the Wars of the Roses, in which the Crofts were prominent Yorkists, in the Civil Wars, in which they were staunch Royalists, in the various campaigns in Scotland, France, and Flanders, and more recently at Quatre Bras, where the seventh baronet was wounded and mentioned in dispatches when serving as a Lieutenant in the Grenadier Guards.
You can read more about Sir Herbert Archer Croft here: http://www.thetrench.co.uk/page6.html