Edmund Parker was in Rigaud's House from 1907 until 1910. He decided to follow a career as an accountant andtook the Preliminary examination in November 1910, aged just 17. He was articled toCyril Hooper of Goodricke, Cotman, Hooper, Phipps & Co. in January 1911 and passed the Intermediate examination in November 1913. Upon the outbreak of war, Parker, along with many other articled clerks working for his firm volunteered for service. 18 members of the firm had joined up by early 1915.
Edmund joined the 1/5th (City of London) Battalion, The London Regiment (London Rifle Brigade), and made his way to France with the battalion on 5th November 1914.
The Institute of Chartered Accountants in England and Wales (ICAEW) have published letters written by Edmund to his boss, Cyril Hooper. In March 1915 he wrote about daily life: 'Each of the four companies does three days at a time [in the trenches]. Then we go to a large town for three days' rest, including a bath; then three days in farms just behind the trenches, from which we supply parties to take up stuff to the trenches, and also to work there; after this three days in the village just behind, and then up to the trenches and so on.'
Edmund spent Christmas Day 1914 in the trenches and wrote that there was 'a perfect truce and could stroll about as we liked.'
The ICAEW finish tell the rest of the story:
The last published letter from Edmund, dated 7 May 1915, described a lucky escape for Edmund and his brother (who had just come out with the draft from England). Edmund learnt that German forces had launched a violent attack on the line they had retired from, using much gas and shelling the empty trenches heavily. Sadly, by the time of publication Edmund was already dead.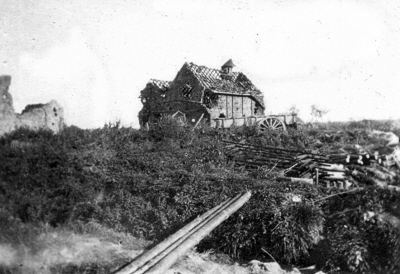 He was killed in action on 13 May 1915. On this day, the battalion suffered the heaviest bombardment of the war to date and experienced very heavy casualties. Two platoons of the London Rifle Brigade alone were wiped out by intense shelling of their location at Shell Trap Farm, where shells had been observed falling at a rate of over a hundred per minute. The London Rifle Brigade had begun the day just 278 strong, having lost most of its men in the earlier fighting, but by evening a further 91 men had gone. Shortly before his death Edmund had been promoted to lance-corporal and he had been advised to apply for a commission. Lance Corporal Edmund Parker's name is recorded on the Menin Gate in Ypres. His name also appears on the war memorial in the church of St. Peters in Myddle, Shropshire, on his firm's Roll of Honour, on the war memorial at Chartered Accountants' Hall and of course our own memorial up school.