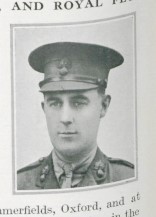 At the beginning of the First World War, the Royal Flying Corps, in which Albert Ernest Morgan was a pilot, were used entirely to support ground troops through photo-reconnaissance and artillery observation. Although technology advanced very quickly throughout the war, to start with it was rudimentary at best. Heavy equipment weighed planes down, a lack of usable communications made any work more difficult, and no parachutes made it even more dangerous for the men flying the planes.
After spending less than 3 months on the Western Front, Morgan was involved in directing artillery fire in the Battle of Neuve-Chapelle on the 10th of March, 1915. The plane was hit by shellfire, killing both him and his observer, Aubrey Gordon Irving. They were buried next to each other, their graves now in the Royal Irish Rifles Graveyard, in France. On Morgan's, rather poignantly, his mother had engraved 'Dulce Et Decorum Est Pro Patria Mori'.
Morgan started at Westminster in September 1902, aged 13. He was a half boarder (he lived in Bayswater) in Grant's for the next 3 years, but other than this we know nothing about his time at the school. He seems to have not been involved in any sport or activities while here, and we don't even know where he went after he left in 1905. We do know that he received his commission in the Royal Fusiliers in 1911, and was in the Royal Flying Corps from 1914, where he was an assistant instructor.